Jazz Baltica 2020 | Live Streaming

Cæcilies perfomance on Jazz Baltica 2020 from Timmendorfer Strand in Germany will be live-streamed on Sunday 21. of June at 14:00. Norby will be accompanied by Ulf Wakenius (git), Lars Danielsson (b, vcl) and Nils Landgren (tb) - and live-streamed via ZDF Kultur.
Cæcilies optræden på Jazz Baltica 2020 fra Timmendorfer Strand i Tyskland vil blive live-streamet søndag d. 21 juni kl. 14:00. Norby blir' akkompagnieret af Ulf Wakenius (git), Lars Danielsson (b, vcl) and Nils Landgren (tb) - og live-streamet via ZDF Kultur.
Watch Live Stream: Jazz Baltica 2020
Watch Norby & Friends: Jazz Baltica 2020 Concert
Album Release | October 11th. 2019

Cæcilie is back with a powerful All Star Band and a repertoire emphasizing the PopSoul aspects of her musical spectrum - interjected with Jazz and Rock ofcourse. So tag along on this vast ranging journey through her musical career on the lastest album "Portraying Cæcilie Norby" released on the largest Vocal Label in Europe; "ACT music".
Cæcilie er tilbage med et powerfuldt all star band og et repertoire, der ligger vægt på hendes PopSoul sider, hvor krydderier af Jazz og Rock selvfølgelig også findes. Så tag med på en bredtfavnende rejse gennem hendes musikalske karriere på det nyeste album "Portraying Cæcilie Norby" som udgives af Europas største Vocal Label "ACT music".
More info: Tour & Tickets
Listen to: Portraying Cæcilie Norby
TV2 | Toppen af Poppen 2019

Danish TV2 is currently airing the music show "Toppen af Poppen" which revolves around a number of well known danish musicians, including Norby, rendering eachothers songs in new compositions.
Toppen af Poppen kan ses på TV2 her i efteråret hvor Cæcilie sammen med en række andre stærke navne i dansk musik gengiver hinandens sange i nye kompositioner.
More/Mere info: Toppen af Poppen
Album Release | January 25th. 2019
Cæcilie has gathered musical forces with her European "Sisters in Jazz", consisting of some of the most exciting, diverse and dynamic female musicians on the European Jazz scene. Together they've created her new album which celebrates women in jazz.
Cæcilie har samlet hendes europæiske jazz søstrer som består af nogle af de mest spændende, vidtfavnende og dynamiske kvindelige musikkere på den europæiske jazz scene. Sammen har de skabt hendes nye album "Sisters in Jazz" som fejrer kvinder i jazz.
Listen to: "Sisters in Jazz"
See video: "Sisters in Jazz"
Album info from: ACT Music
Press section: Download album material
Album Release | August 28th. 2015

It doesn't get much better than this! Cæcilie's latest album "Just The Two of Us", produced in collaboration with her partner Lars Danielsson, takes the listener on a journey into their private music universe, which leaves no-one unmoved. It's Europe's dream couple of Jazz - and it's magical!
Så bli'r det ikke meget bedre! Cæcilies seneste album "Just The Two of Us", produceret i samarbejde med hendes partner Lars Danielsson, tar' dig med på en rejse ind i deres private musikalske univers. Det er uimodståelig magisk når jazzens dream-team spiller på alle strengene!
Hear the music from: "Just the two of us"
More album info from: ACT Music
Press section: Download album material
NAT HINDE | A masterpiece from Norby

"Nat Hinde" ("Night Mist") is a unique jazz-classical composition by Norby for church organ. The midnight concert takes the audience on a musical journey where the impressive cathedral is filled with Scandinavias best jazz vocal supported by jazz masters of Europe and the meditative, spiritual church organ. Bringing Norby's "Nat Hinde", that's largely considered to be a masterpiece of it's kind, to fans in Europe is likely to be part of upcoming tour plans.
"Nat Hinde" er en unik jazz-klassisk komposition fra Norby skrevet for kirkeorgel. Midnatskoncerten tager publikum på en musikalsk rejse hvor den imponerende domkirke fyldes med Scandinaviens bedste jazz vokal supporteret af Europas jazz mestre og det meditative, spirituelle kirkeorgel. Norby's "Nat Hinde", som anses for at være et mesterværk i sin kategori, vil højst sansynlig være en del af kommende europæiske tour datoer så flere fans kan opleve koncerten.
Aarhus Jazz Festival: "A match made in heaven"
Århus Stiftstidende: "Midnatskoncert i Domkirken"
Århus Stiftstidende: "Nattens uregerlige puls"
More info - in English: "NIGHT MIST"
More info - in Danish: "NAT HINDE"
Cph Jazz Festival | 6 stars to Norby

The formidable performance from Cæcilie Norby and band at the Copenhagen Jazz Festival 2015 in "Krudttønden" resulted in no less than a six star review. "I've seen and heard several concerts with Norby, but this one evolved to be the absolute best I've ever experienced" says Ivan Rod from Gaffa.
Den formidable koncert med Cæcilie Norby Trio ved Copenhagen Jazz Festival 2015 i "Krudttønden" resulterede i intet mindre end en seks stjerner's anmeldelse. "Jeg har set og hørt flere koncerter med Norby, men denne udviklede sig til den suverænt bedste, jeg nogensinde har oplevet" skriver Ivan Rod fra Gaffa.
BT (full review - in danish): "6 stjerner til Norby"
DR | Castle Concert 2015

The Ledreborg Castle Concerts has through the past 22 years hosted DR's biggest annual live concert. It's a popular summer destination for music lovers alike. This year almost 11.000 guests visited the park and enjoyed a day of picnic and music which included entertainment from Cæcilie Norby and the DR Big Band in the beautiful surroundings.
Ledreborg Slotspark har gennem de sidste 22 år dannet rammen om DR's største årlige livekoncert. Det er en populær sommer destination for musik fans i alle aldre. I år besøgte næsten 11.000 gæster parken og nød en dag med picnic og musikalsk underholdning bl.a. med Cæcilie Norby og DR's Big Band i de smukke omgivelser.
Concert venue & info Ledreborg Castle
Birthday | Norby 50 years

Turning 50 on September 9th 2014, Cæcilie, band and Special Guests will celebrate the milestone day with concerts at Montmartre at the end of November. See the Tour section for details and table reservations.
Cæcilie, band og specialt inviterede gæster fejrer at Norby fyldte 50 d. 9. september 2014 med en række fødselsskoncerter på Montmartre i November. Se Tour siden for detaljer og bordreservationer. Pressens Berlingske, Jyllands-Posten, Kristeligt Dagblad, Politiken og Århus Stiftstidende kom også med lykønskninger på dagen:
Berlingske Portrait: "Kreativ vokalkunst"
Jyllands-Posten Portrait: "Arbejde med stor fornøjelse"
Kristeligt Dagblad Portrait: "Jazzdiva med fortid i popmusikken"
Radio | Norby on DR P8 Jazz

20 hours full of jazz with Norby at the anchor hosting her very own radio show on DR P8 Jazz, 10 Sundays in a row. Click the image for more info.
20 timer fuld af jazz med Norby som debuterer som radiovært på DR P8 Jazz, 10 søndage i træk. Klik på billedet for mere info.
TV DR1 | Live duet with Lars Danielsson

"Papa Was A Rolling Stone" - Norby and Danielssons interpretation of The Temptations' song, performed Live in DR1 studios downtown Copenhagen in 2013. Click the image to watch on YouTube.
"Papa Was A Rolling Stone" - Norby og Danielssons fortolkning af The Temptations' sang, udført Live i DR1's studie ved Rådhuspladsen i 2013. Klik på billedet for at se YouTube video.
Silent Ways | Stepping Stone

"Stepping Stone" - music video from Cæcilie Norby's album "Silent Ways". Click the image to watch on YouTube.
"Stepping Stone" - musik video fra Cæcilie Norby's album "Silent Ways". Klik på billedet for at se YouTube video.
TV | Silent Ways

Cæcilie Norby was joined on the Danish Radio Concerthall stage by her "Silent Ways" musicians; Lars Danielsson, Leszek Mozdzer, Nguyen Le and Robert Mehmet Ikiz for a concert recording and interview about the newly relased album.
Cæcilie Norby var akkompagneret af "Silent Ways" musikerne i DR's Koncertsal; Lars Danielsson, Leszek Mozdzer, Nguyen Le and Robert Mehmet Ikiz for en koncert optagelse og interview om det nyudgivede album.
TV | Food show

Cæcilie Norby in a friendly food competition challenge where she cooked up one of her favourite dishes in the Danish TV show "Price invites".
Cæcilie Norby i en venlig mad konkurrence hvor hun lavede een af hendes favorit retter i udsendelsen "Price inviterer".
New Album Release | April 2013

Cæcilie Norbys latest album "Silent Ways" is released on April 22nd in Scandinavia, and May 29th on ACT Music, 2013.
Cæcilie Norbys seneste album lanceres 22. april i Skandinavien og 29. maj på ACT Music, 2013.
Norby sings Bowie | October 2012

In October Cæcilie Norby performed with RUO and DR's Big Band in DR's Concerthall with a repertoire created around Bowies lyrical, cinematic and melodic music where the strongest compositions will come to life in new and exciting arrangements.
I oktober gik Cæcilie Norby sammen med RUO og DR Big Bandet og leverede en koncert aften af de helt store hvor Bowies lyriske, filmiske og melodiske musik var på repertoiret. Koncerthuset var rammen om den forrygende musikalsk oplevelse hvor de stærkeste af Bowies kompositioner blev opført i nye og spændende arrangementer.
Bastard | Nordic Stage Event

"Bastard - A Family Chronicle" is a story that deals with a dysfunctional family. The play is written by Hollywood scriptwriter Richard La Gravenese; recognized for movie scripts such as "Bridges of Madison County" and "The Fisher King".

The music is created by Cæcilie Norby and Lars Danielsson, for whom, composing a stage production score is a first. It's also a testimony to Norby & Danielsson's incredible talent to embrace new genre challenges and masterfully so.
The grand result is both classical and improvisational music with a bombastic and melancholic style - recorded by the Danish National Chamber Orchestra. This collaboration uniquely brings together Nordic theatre with the utmost talents within Danish jazz.
Cæcilie Norby og Lars Danielsson har, for første gang, komponeret og indspillet musik til teater i den nordiske co-produktion "Bastard - En familiesaga". Det er uden fortilfælde i dansk scenekunst og musikdramatik, at et samarbejde mellem noget af det bedste indenfor nordisk teater kombineres med det ypperste indenfor jazzmusikken herhjemme.

Musikken til "Bastard" viser Cæcilie og Lars' store talent for at bevæge sig ud i nye genre og har her skabt musik der er en blanding af nyskrevet klassisk og improviseret musik. Stilen er bombastisk og melankolsk - og indspillet af DR UnderholdningsOrkester.
The Play was performed in 2012, in:
Reykjavik: 1/6 - 2/6
Malmo: 28/7 - 19/8
Copenhagen: 7/9 - 23/9
Washington DC.: 2013
For more info, visit: Bastard website
Concert Tour | March 2012

Cæcilie Norby, Katrine Gislinge and Lars Danielsson was on an intimate concerts tour in DK during March 2012.
Cæcilie Norby, Katrine Gislinge og Lars Danielsson var på tour med intimkoncerter rundt i landet i marts 2012.
Danish Music Awards | Jazz 2011

Cæcilie Norby was nominated for a Danish Music Award in the category "Danish Vocal Jazz Album of the Year". It's the 11th nomination for Norby and this time with the album "Arabesque". The Awards took place Nov. 5th. 2011 in HUSET in Magstraede as a full day event with 6 concerts, awards and celebration of Danish Jazz.
Cæcilie Norby var nomineret til en Danish Music Award i kategorien for Årets Danske Vokaljazzudgivelse. Det er 11. DMA nominering for Norby og denne gang med "Arabesque". Danish Music Awards foregik d. 5 nov. 2011 i HUSET i Magstræde som et heldagsarrangement med 6 koncerter, prisoverrækkelser og festlig fejring af det danske jazzmiljø.
Coffee Kids Vibe project

Cæcilie Norby participated in the fundraising project "Coffee Kids Vibe", initiated by Chris Minh Doky, to support the children of coffee farmers. The danish musicians Kasper Winding, Thomas Blachman and Cæcilie Norby all supported the project with new music released throughout Fall of 2011.
Cæcilie Norby deltog i støtteprojektet "Coffee Kids Vibe", udarbejdet af Chris Minh Doky, til fordel for kaffens børn. Kasper Winding, Thomas Blachman og Cæcilie Norby støttede projektet med nykomponeret musik som blev udgivet henover efteråret 2011.
Arabesque Summer Tour 2011
Cæcilie and the Arabesque Band was on Summer Tour in July and August visiting several international Jazz festivals.
Cæcilie og Arabesque Bandet var på Sommer Tour i july og august som inkluderede adskillige internationale jazz festivaller.
Copenhagen Jazz Festival concert in Tivoli's Glassalen

During the Copenhagen Jazz Festival Cæcilie Norby took to the stage with the Arabesque Band in Tivoli's "Glassalen". The concert was followed by a surprise performance for Tivoli's guests as Norby joined Tivoli's Big Band on the outdoor stage "Plænen".
I forbindelse med Copenhagen Jazz Festival indtog Cæcilie Norby og Arabesque Bandet scenen i Tivoli's "Glassalen". Koncerten blev efterfulgt af en overraskelse for Tivoli's gæster da Norby optrådte med Tivoli's Big Band på Plænen.
Worldwide release of Arabesque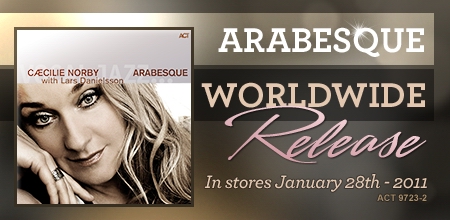 Cæcilie Norby's album "Arabesque" is released worldwide! - check your local jazz reseller, major record stores or online for where-to-buy. For example through Amazon.co.uk
Cæcilie Norbys album "Arabesque" released over hele verden! - tjek din lokale jazz butik, større musik forhandlere eller online for steder albummet kan købes.
IFPI's Honorary Award to Norby

Cæcilie Norby received the esteemed "IFPI Honorary Award" during the Danish Music Awards, Nov. 14. 2010, for enriching danish music.

The jury's choice of Norby was concluded with "The receiver of the Honorary Award has, in an elegant fashion, managed to travel through many genres and styles of music for more than 25 years. And no matter what musical adventure she has set out on, she has easily made the destination her home."
Cæcilie Norby modtog den fornemme "IFPI's Ærespris" ved Danish Music Awards, 14. nov. 2010, for berigelse af dansk musik.

Juryens valg af Norby begrundes således "Modtageren af IFPI's Ærespris har på elegant vis formået at bevæge sig ubesværet gennem mange genrer og musikalske universer i mere end 25 år. Og uanset hvilke eventyr hun har kastet sig ud i, har hun med største selvfølgelighed gjort nye destinationer til sine egne musikalske hjem."
Arabesque Tour 2010

Cæcilie and band celebrated the release of Arabesque with a DK-Tour full of sold out venues in the Fall of 2010.
Cæcilie og band fejerede udgivelsen af Arabesque med en Danmarks tour for fulde huse i efteråret 2010.
Arabesque Events - in Norway on November 23, 2010.
In relation to the release of the "Arabesque" album, Cæcilie appeared on Norway's National TV morning show "God Morgen" with Bugge Wesseltoft and Lars Danielsson.

Afterwards they were off to do a mini-concert and album-signing in "HiFiklubben" in Oslo, followed by yet an album-signing at "Bare Jazz".
I forbindelse med det nye "Arabesque" album, optrådte Cæcilie på Norge's nationale TV show "God Morgen" sammen med Bugge Wesseltoft og Lars Danielsson.

Efterfølgende gav de en mini-koncert og album-signering i "HiFiklubben" i Oslo, efterfulgt af endnu en album-signering i "Bare Jazz".

Femina interview and performance

Femina brought a heartfelt interview with Norby in their issue no. 37. In addition, Cæcilie performed at Femina's lifestyle convention in Forum, October 2010, with some of the songs from "Arabesque".
Femina bragte et åbenhjerteligt interview med Norby i ugens udgave nr. 37. Derudover optrådte Cæcilie på Femina's livsstilsmesse i Forum, oktober 2010, med nogle af sangene fra "Arabesque".
/ Photo credits; FEMINA
Jazz Baltica

Celebrating 20 years anniversary of "Jazz Baltica Festival" in Salzau, Germany. Among the exceptional musicians performing at the festival was Lars Danielsson with Cæcilie Norby as special guest - "The Voice of Danish JazzBaltica". Cæcilie first performed at Jazz Baltica back in 1997 and returned in 1998 and 2004.
Jazz Baltica festivalen fejerede 20 års jubilæum i Salzau, Tyskland. Blandt de ekseptionelle musikere der optrådte på festivalen var Lars Danielsson med Cæcilie Norby, "Den Danske JazzBaltica Stemme", som specielt inviteret gæst. Cæcilie optrådte første gang på Jazz Baltica i 1997 og returnerede i 1998 og 2004.
/ Photo credits; Rolf Kissling
Royal performance

Cæcilie Norby, Silje Nergaard (N) and Rigmor Gustafsson (S); "Jazz Divas of Scandinavia", performed with the song "Lovers" at Konserthuset for the Swedish Royal family and their guests during the celebration concert for the bridal couple; Crown Prinsesse Victoria and Daniel Westling.
Cæcilie Norby, Silje Nergaard (N) og Rigmor Gustafsson (S); "Jazz Divas of Scandinavia", optrådte med nummeret "Lovers" i Konserthuset for den royale svenske familie og deres gæster ved festkoncerten for Kronprinsesse-brudeparret.
Winter jazz with a wizard

As a first on danish soil, Norby and Danielsson performed with Bugge Wesseltoft from Norway. Bugge is a wizard on the keys of both his piano and computer, mixing jazz with electronic sounds.

The audience were guaranteed a unique concert when the trio performed together on January the 29th at Islands Brygges Kulturhus.
For første gang på dansk grund spillede Norby og Danielsson sammen med Bugge Wesseltoft fra Norge. Bugge er en troldmand på både hans klaver og computer, hvor han mixer jazz med elektroniske lyde.

Publikum var garanteret en unik koncert da trioen spillede d. 29. januar i Kulturhuset på Islands Brygge.




Donation Campaign for Africa's Women

As appointed ambassador for "Red Barnet" and "Pandora Jewellery" Cæcilie Norby support the cause "Africa's Women - Africa's Future". The danish national donation campaign ran throughout January 2010 and ended with a grand TV-show on the 30th.
Som udnævnt ambassadør for Red Barnet og Pandora Smykker støtter Cæcilie Norby den danske landsindsamling for "Afrikas Kvinder - Afrikas Fremtid" som kørte i januar 2010, og afsluttedes med et helaftensshow på TV d. 30.
"Rock the Cure" Galla Show

Cæcilie Norby participated in the Diabetes-fundraising show "Rock the Cure" in early December 2009. The galla show aired four times on the danish TV channel "DK4" at Christmas through to January 1st. 2010.
Cæcilie Norby deltog i Diabetes Fonden's indsamlingsshow i begyndelsen af december 2009. Galla showet blev vist fire gange på DK4 i dagene mellem jul og første januar 2010.




Radio Show
Sunday the 13th and 20th of December 2009, the danish radio channel "P4" aired the show "Cafe Hack" with Cæcilie from 10:03AM till Noon.
Søndag d. 13. og 20. december 2009 sendte P4's "Cafe Hack" en udsendelse med Cæcilie fra 10:03 til 12:00
Fall 2009 tour to Austria, Germany & Sweden

Cæcilie Norby returned from a very successful tour to Austria, Germany and Sweden. Joined by Nikolaj Hess (P), Lars Danielsson (B) and Morten Lund (D), they all enjoyed playing for great audiences and saw almost every venue sold out.
Cæcilie Norby returnerede fra en meget successfuld tur til Østrig, Tyskland og Sverige. Med på turen var Nikolaj Hess (P), Lars Danielsson (B) and Morten Lund (D), som alle nød at spille for begejstrede publikummer til næsten komplet udsolgte koncerter.
I Had A Ball

Cæcilie Norby's album "I Had A Ball" was recorded Live with Klüvers Big Band, featuring Norby's greatest songs and more. The album also include a duet with Kurt Elling on the track "Comes Love". The CD was released in Denmark on Nov. 12th 2007 and is an absolute must-have!
Cæcilie Norby's album "I Had A Ball" blev indspillet Live med Klüvers Big Band, med Norby's "greatest and more" repetoire. Albummet inkluderer også en duet med Kurt Elling på nummeret "Comes Love". CD'en blev lanceret i Danmark d. 12 nov. 2007 og må absolut ejes!
Slow Fruit

"Slow Fruit", which has sold more than 12,000 copies, was released in Denmark and Norway in the Fall of 2005, followed by the single "My Man".
Signed editions of the album was sold out shortly after.

The album, including a bonus track and a duet with Curtis Stigers on the track "Big Time", was released in Italy, Poland and Germany in the Fall of 2007 - followed by a German Tour from Nov. 3rd.
For our German readers: Presseinfo im Deutsch
"Slow Fruit", der har solgt mere end 12.000 eksemplarer, blev lanceret i Danmark og Norge i efteråret 2005 efterfulgt af singlen "My Man".
Signeret album eksemplarer blev hurtigt udsolgt.
Albummet, inklusiv et bonus nummer og en duet med Curtis Stigers, blev lanceret i Italien, Polen og Tyskland i efteråret 2007 - efterfulgt af en Tyskland-Tour fra d. 3 nov.
Find "Slow Fruit", and other of Norby's albums, here: iMusic
London/Paris

"LONDON/PARIS" received a gold award, in July 2007, for exceeding 25,000 copies sold in Denmark. The album was released in Norway and Sweden October 2004 and was Grammy nominated for "Vocal Jazz Album of the Year" in the Danish Music Awards Jazz genre, in April 2005.
"LONDON/PARIS" modtog en guldplade, i juli 2007, for 25.000 solgte eksemplarer i Danmark. Albummet udkom i Norge og Sverige oktober 2004 og var Grammy nomineret til Årets Danske Vokaljazzudgivelse ved Danish Music Awards, i april 2005.